Other Browsers
Mozilla Firefox
Mozilla Firefox is one of the World's most popular web browsers and was one of the first to break the stranglehold of Microsoft's Internet Explorer (IE) on the web browsing market.
Features
Mozilla Firefox 18 is the latest version of the popular web browser and brings with it a few key and welcome new features. First among them is the company's claim to a speedier, safer browsing experience. Tests reveal that this newest version of Mozilla Firefox is certainly quick to load even the most graphics intense pages.
Firefox 18 also now features secure connections when performing Google searches to improve privacy and there's an updated site identity indicator in the URL bar. Windows users also now get silent updates while Mac users on Lion or above can use Firefox in full-screen mode.
Mozilla Firefox's new tab layout itself is a pretty noticeable new feature. Quite similar to Google's Chrome browser, instead of seeing a blank page whenever a new tab is opened Firefox users will now be treated to icons that offer quick access to everything from bookmarks to most recently accessed and most frequently visited sites.
For full release notes, please visit https://www.mozilla.org/en-US/firefox/20.0/releasenotes/
---
Google Chrome
Google Chrome definitely deserves its position as the browser to reckon with. Chrome's outstanding features, like its download manager, incognito browsing mode and bookmark syncing, already make it a stand out app. In version 20, it adds a more new features, as well some tweaks that make it even more user-friendly.
New features
Being able to search directly from the address bar is one of the great things about Google Chrome. Now Omnibox, Google Chrome's address bar, will offer you various suggestions as you type. Depending on how accurate it thinks its results are, Chrome may even begin to pre-load a chosen page. Popular sites like Facebook and Twitter are now sure to load almost instantaneously. You'll now also receive warnings when Google Chrome thinks a downloading file that might contain malware or something harmful to your PC. It does this by tracing the download's originating server and comparing it to sites on its blacklist. If you're concerned about privacy when it comes to Google looking at your downloads for potential malware, you can disable this feature within your browser preferences.
https://www.google.com/intl/en/chrome/browser/
---
Internet Explorer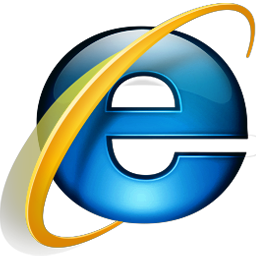 Internet Explorer 10 for Windows 7 allows Windows 7 users to test out the latest version of Microsoft's browser.
Windows 8 launched with Internet Explorer 10 installed by default but Windows 7 users were still stuck with IE 9. With Internet Explorer 10 Preview, Windows 7 users can now enjoy some of the new features that Windows 8 already have.
While Internet Explorer 10 for Windows 8 lives a double life as a touch-based and desktop browser, Internet Explorer 10 for Windows 7 only presents the desktop version of IE 10. Still, there are plenty of interface and upgrades under the hood.
Interface
The interface of Internet Explorer 10 for Windows 7 has changed only a little. The forward and back buttons are integrated into the window, making the look of Internet Explorer 10 Preview more seamless. Tabs and the address bar share the same space. If you have a lot of tabs open, the interface can look a bit cluttered.
Menus have been simplified and the menu bar is still hidden by default. Users can get to all of the options from the little gear icon on the top
right. The options menu is still there for the more technically inclined but it hasn't received any update
http://windows.microsoft.com/tr-tr/internet-explorer/download-ie
---
Opera
Opera is an internet browser that came along long before big hitters like Firefox and Chrome.
Overview
Opera 12 keeps the general design and functionality of the highly-praised Opera 11, but adds convenient improved features like themes, web cam access and hardware acceleration. As for the the interface, Opera 12 features a slightly cleaner GUI with a focus on webpages instead of buttons and menus. Overall, Opera 12 isn't a huge change compared to the last version, but it has been improved with some nice new features.
Innovations and speed
The big innovation in the last version of Opera was extensions and while the choice of browser enhancements is still fairly limited, when you install or uninstall add-ons, you don't have to restart your browser. They are also sandboxed, so if one crashes, your browser won't. Opera 12 runs just as quickly as Google Chrome (the developer claims it's even faster) and the rendering engine has been tweaked slightly to offer an even faster browsing experience.
Visual Tabs and Tab Stacking is useful if you often have too many open, and there are now visual mouse gestures. These are well implemented, and accessed by holding the right mouse button which brings up a translucent guide to mouse gestures. This is a great introduction for people who've never used gestures, and hopefully allows for greater use in the future.
http://www.opera.com
---
References: Softonic
COMMENTS
---